At press time, $PLANET was trading at $0.00005528, up 14.96% in the last 24 hours.
It is the top gainer among today's most trending cryptocurrencies.
$PLANET's popularity surge coincides with India's Chandrayaan3 touching down on the moon.
PLANET cryptocurrency is the native token of a platform called Planet that uses blockchain technology to tackle the most important sustainability concerns in the world. The 'Join Our Planet' movement is propelled by a steadfast dedication to resolving the 17 Sustainable Development Goals (SDGs) established by the United Nations as the most important issues facing the planet today.
Planet exploits Web2 and Web3's inclusivity to unite people from all around the world in support of environmental causes. It mobilizes global action through the influence of celebrity and fandom, with the biggest stars in the world supporting issues close to their hearts.
Why is the PLANET token trending?
The price of PLANET cryptocurrency is suddenly skyrocketing after 30 days of a relative bear trend. Although the token is still 11% below where it was trading 30 days ago, it has surged by over 14% today, just hours after India's Chandrayaan 3 moon touched down.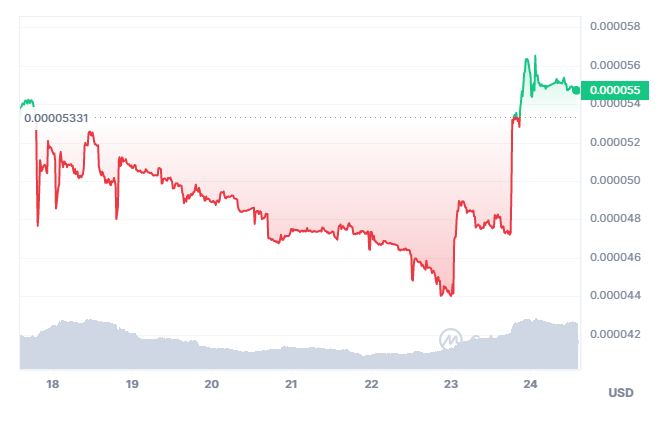 However, while most may want to believe that PLANET's price surge is connected to the successful Chandrayaan 3 touchdown on the moon just days after the Russian rover crashed on the moon's surface, there are more reasons why the token is trending. One of the main reasons why PLANET is trending is its recent announcement that its commitment to security and trust has taken it to the CertiK "TOP 10% Security Score and Sub-Score lists.'
Our commitment to security and trust has taken $PLANET to the @CertiK TOP 10% Security Score and Sub-Score lists. $PLANET is leading the stats on Market Stability, Community Trust, and Governance Strength 🔥👀

Check it out ▶️https://t.co/7okpltBvxN#JoinThePlant $PLANET #Planet pic.twitter.com/5aV6ZfvPjm

— Planet (@JoinOurPlanet) August 22, 2023
The Certik security score achievement came two days after Planet announced that "HODLers that held 1 Million $PLANET in average till the 20th of August will get their invitations to the NFT whitelist soon"
Planet is working on some exclusive NFTs and has previously announced that PLANET token owners who were HODLing 1 Million $PLANET from the 21st of July to the 20th Aug on average would be among the FIRST people to get their hands on the exclusive NFTs.
The increased hype around the Planet cryptocurrency is therefore most likely attributed to the much-expected exclusive Planet NFTs now that the August 20 HODLing deadline has passed.