In a meticulously detailed letter to Judge Analisa Torres of the Southern District of New York, the US Securities and Exchange Commission (SEC) has delineated its grounds for seeking an interlocutory appeal against Ripple Labs Inc. This move, which has sent ripples (pun intended) through the XRP community, focuses on the intricate legalities surrounding Ripple's sales and distributions of XRP.
Ripple Vs. SEC: Interlocutory Appeal Incoming
The SEC's primary contention revolves around Ripple's "programmatic" sales to XRP buyers over crypto asset trading platforms and Ripple's "other distributions" in exchange for labor and services. The regulatory body asserts that these transactions should be classified as offers or sales of securities, drawing upon the precedent set by the Howey case.
The SEC's letter states, "Specifically, the SEC seeks to certify the Court's holding that Defendants' 'Programmatic' offers and sales to XRP buyers over crypto asset trading platforms and Ripple's 'Other Distributions' in exchange for labor and services did not involve the offer or sale of securities under SEC v. W.J. Howey Co., 328 U.S. 293 (1946)."
Delving deeper into the document, the SEC underscores the existence of an intra-district split (Judge Jed Rakoff's ruling in the SEC vs. Terra case) indicating that there are substantial grounds for differences in legal opinion. The letter points out, "Interlocutory review is warranted here. These two issues involve controlling questions of law on which there is substantial ground for differences of opinion, as reflected by an intra-district split that has already developed."
The SEC further draws attention to the potential implications of the court's previous order, suggesting that it could influence a multitude of pending litigations. The document reads, "The Programmatic Sales and Other Distributions rulings concern issues that may arise in various pending cases, including many in this Circuit where the alleged investment contracts were offered and sold by issuers – like Ripple – on crypto asset trading platforms or for non-cash consideration."
Jeremy Hogan, a legal luminary in the XRP community, weighed in, noting, "AND… the SEC continues making questionable decisions, requesting an interlocutory appeal. Note that it is NOT appealing whether XRP itself is a security – just its losses on the programmatic and individual sales issues."
Stuart Alderoty, Ripple's Chief Legal Officer (CLO), clarified the SEC's intent, emphasizing that the regulatory body is in the preliminary stages of seeking the court's permission for the appeal. He stated, "The SEC does not have the right to appeal just yet which is why they are asking permission to file an interlocutory appeal. Ripple will file its response with the Court next week."
XRP Price
Despite the intricate legal maneuvers and the potential ramifications, XRP's market price has remained notably stable, suggesting a mature market response to the ongoing legal developments. At press time, XRP actually saw a slight uptick, trading at $0.6378.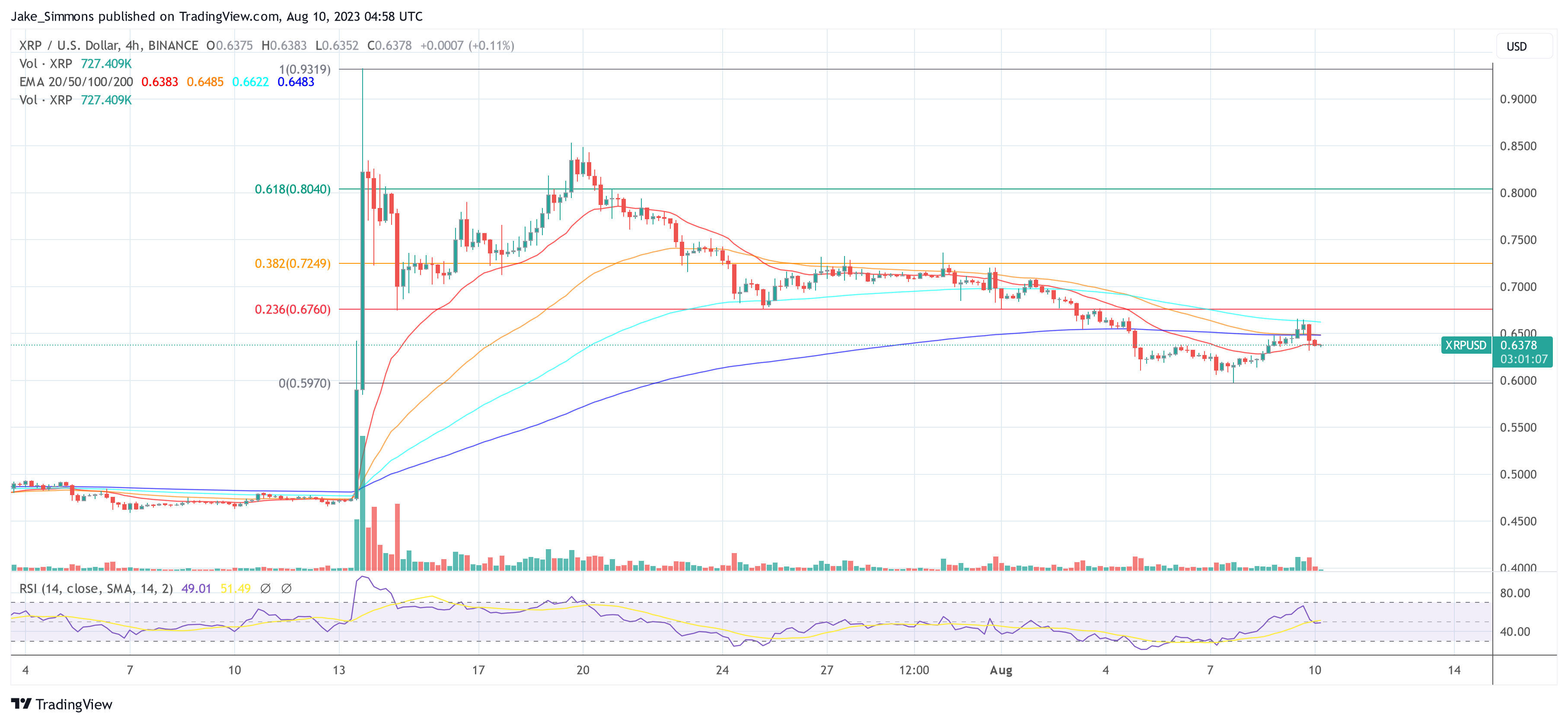 Featured image from Fox Business, chart from TradingView.com